When it comes to keeping kids dry during rainy days, few options are as charming and practical as the Wholesale Rain Poncho Children Cartoon PVC Rain Cape. This delightful rain poncho is making waves in the wholesale rainwear market, and for good reasons. In this article, we'll explore what sets these cartoon PVC rain capes apart, why they're the top choice for wholesalers, and how they are transforming the options available for children's rainwear.
The World of Wholesale Rain Ponchos
Rain ponchos have long been a staple for keeping dry during unexpected showers or downpours. They are practical, easy to carry, and come in various materials and designs. However, when it comes to children, finding the perfect balance between functionality and fun can be a challenge. That's where the Wholesale Rain Poncho Children Cartoon PVC Rain Cape enters the scene.
A Splash of Color and Imagination
One of the most striking features of these wholesale rain ponchos is their vibrant and imaginative designs. Unlike traditional plain rain ponchos, the cartoon PVC rain capes are adorned with eye-catching characters and patterns that capture a child's imagination. From cheerful animals to beloved superheroes, these designs make wearing a rain poncho an exciting adventure rather than a chore.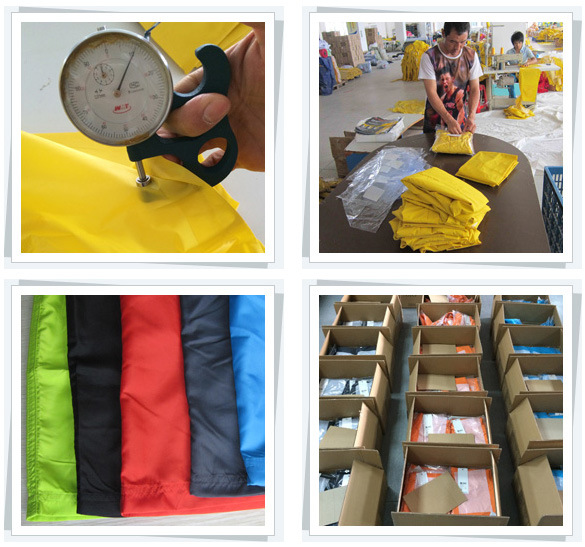 Practicality Meets Comfort
While the designs are undoubtedly captivating, practicality remains a top priority. The use of PVC material ensures complete waterproofing, keeping kids dry even in the heaviest rain. The capes are spacious enough to provide full coverage without restricting movement, and they feature an attached hood to protect the head and face from raindrops and wind. Elastic cuffs keep the sleeves in place, ensuring that little arms stay dry and warm.
Easy On, Easy Off
Getting kids ready for rainy weather can be a hassle, especially when they are eager to get outside and play. The cartoon PVC rain capes solve this problem with their simple and user-friendly design. They easily slip over the child's head, eliminating the need for complicated zippers or buttons. This means that even the youngest children can put on and take off their rain ponchos independently, fostering a sense of responsibility and self-sufficiency.
A Versatile Solution
One of the key reasons why wholesalers are turning to these rain capes is their versatility. They are suitable for a wide range of occasions and activities. Whether it's a day at the amusement park, a walk to school, a visit to the zoo, or a family camping trip, these ponchos have got children covered. Their compact size when folded makes them convenient to carry in a backpack or store in the car, ensuring that children are always prepared for unexpected rain.
Durability That Lasts
Parents and caregivers appreciate products that withstand the test of time, especially when it comes to items for children. The cartoon PVC rain capes are not only waterproof but also durable. They are designed to withstand the rigors of outdoor play and the wear and tear of active kids. This durability ensures that the rain ponchos remain a reliable choice for wholesalers, who can confidently offer them a long-lasting solution to their customers.
Affordability for Wholesalers
From a business perspective, affordability is a crucial factor. Wholesalers need products that are not only attractive to customers but also cost-effective. The Wholesale Rain Poncho Children Cartoon PVC Rain Cape offers an affordable option without compromising on quality or appeal. The cost-effectiveness of these rain capes makes them an ideal choice for wholesalers looking to provide high-quality rainwear that doesn't break the bank.
Meeting the Needs of Wholesalers
Wholesalers are always on the lookout for products that meet the needs of both their business and their customers. The Wholesale Rain Poncho Children Cartoon PVC Rain Cape aligns perfectly with these requirements. Its eye-catching designs attract customers of all ages, ensuring strong sales. Moreover, its durability reduces returns and warranty claims, saving wholesalers from unnecessary costs. This perfect balance between appeal and functionality is a testament to the well-thought-out design of these rain capes.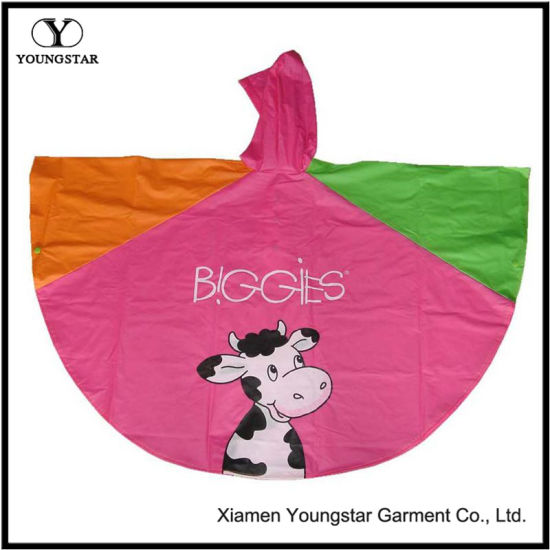 An Expanding Market
The demand for children's rainwear has been steadily increasing, and this trend shows no signs of slowing down. Parents are increasingly concerned about keeping their children dry and comfortable during rainy days, whether for school, playdates, or family outings. This growing market provides wholesalers with a unique opportunity to expand their product offerings and reach a broader customer base. The cartoon PVC rain capes enable wholesalers to tap into this expanding market and meet the rising demand for high-quality children's rainwear.
Wholesale Rain Ponchos in Retail
The appeal of the Wholesale Rain Poncho Children Cartoon PVC Rain Cape isn't limited to just wholesalers. Retailers are also recognizing the value of these rain capes in their inventory. These eye-catching rain ponchos are becoming a staple in retail stores, attracting customers with children and becoming a significant contributor to store revenue. Their vibrant designs displayed on store shelves capture the attention of young shoppers and their parents, making them a popular choice for both rainy days and as fashion statements.
The Gift of Choice
As gift-giving occasions like birthdays and holidays approach, the Wholesale Rain Poncho Children Cartoon PVC Rain Cape becomes an excellent choice for gift-givers. Its universal appeal and practicality make it a gift that children and parents alike appreciate. Wholesalers can tap into the gift market by offering these rain capes as versatile and thoughtful presents for young recipients.
Environmental Considerations
In an era marked by increased environmental consciousness, some manufacturers are producing eco-friendly versions of these rain capes. These environmentally friendly rain ponchos are made from sustainable materials and adhere to eco-conscious production practices. Wholesalers who prioritize sustainability can meet the demands of environmentally aware customers by including these eco-friendly options in their product offerings.
The Competitive Edge
In the highly competitive world of wholesale distribution, having a unique and in-demand product can provide wholesalers with a significant edge. The Wholesale Rain Poncho Children Cartoon PVC Rain Cape offers just that. Its distinctive combination of imaginative design and practicality sets it apart from standard rain ponchos. Wholesalers who embrace this product can differentiate themselves in the market, attracting both new and repeat customers.
The Bright Future of Wholesale Rain Ponchos
In conclusion, the future of wholesale rain ponchos is undeniably bright with the dominance of the Wholesale Rain Poncho Children Cartoon PVC Rain Cape. Wholesalers can capitalize on the growing demand for children's rainwear by offering these versatile, attractive, and affordable rain capes. As they continue to meet the needs of both parents and children, wholesalers can expect their businesses to thrive and expand. With the potential to tap into retail markets, gift markets, and environmentally conscious consumers, wholesalers can look forward to a future where these rain ponchos play a central role in their product portfolio. The rise of these cartoon PVC rain capes is transforming the wholesale rain poncho landscape, and wholesalers who embrace this trend are sure to stay ahead in the industry.
Related Products