Rainy days can put a damper on outdoor adventures, not just for us but also for our furry companions. It's no secret that dogs love the outdoors, rain or shine. However, when it pours, we often find ourselves in a conundrum – should we let our dogs frolic in the rain and risk them getting soaked, or should we restrict their outdoor time and face those pleading eyes?
Enter the Pet Clothes Raincoat Double Dog Raincoat, a revolutionary piece of pet attire that promises to transform your dog's rainy-day experience. In this comprehensive exploration of this unique raincoat, we'll dive into the innovative features that set it apart from traditional dog raincoats.
The Birth of a Game-Changer
Rainwear for dogs is not a new concept, but the Pet Clothes Raincoat Double Dog Raincoat represents a significant leap in innovation. Traditional dog raincoats, while serving the primary purpose of keeping pets dry, often come with their own set of limitations. They can be challenging to put on, uncomfortable for dogs, and may restrict their movement.
So, what makes this raincoat stand out?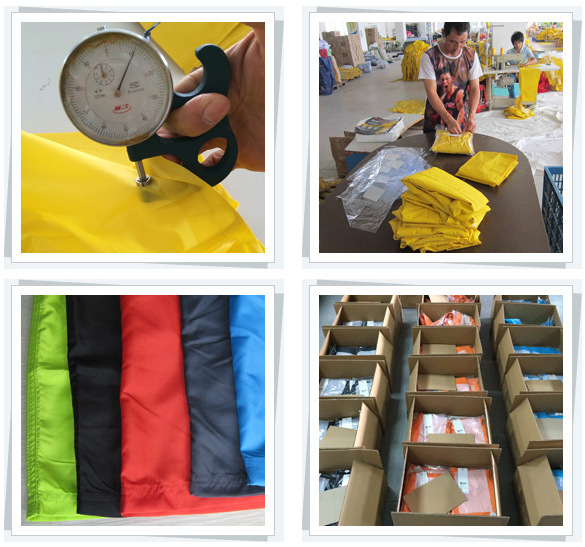 Dual Dog Delight: Two Heads Are Better Than One
The most striking feature of the Pet Clothes Raincoat Double Dog Raincoat is its unique double-headed design. Unlike conventional raincoats that cover a dog's back, this raincoat boasts a dual-layered structure that extends over your dog's back and also shields their front, including their legs and paws. It's like a doggy poncho that wraps around both sides, providing comprehensive coverage from nose to tail.
Imagine this: as the rain pours, your furry friend can prance through puddles, chase after their favorite toy, or simply enjoy their walk without a care in the world. The ingenious design ensures that their entire body stays dry, not just their back. No more soggy paws or wet fur causing discomfort.
Ease of Dressing: Hassle-Free Experience for Both You and Your Dog
Getting your dog into a traditional raincoat can sometimes feel like an Olympic sport. The wriggling, the squirming, and the attempts at escape – it's a battle of wills. The Pet Clothes Raincoat Double Dog Raincoat simplifies the process. Its design allows for quick and stress-free dressing.
The raincoat slides over your dog's head effortlessly, and the dual fasteners on the chest and belly make securing it a breeze. No more tugging and pulling, just a smooth and seamless experience for both you and your dog. With the Pet Clothes Raincoat, rainy days become less of a hassle and more of an opportunity for fun and bonding.
Adjustable Fit: Tailored for Your Dog's Comfort
Not all dogs are the same, and the creators of this raincoat understand that perfectly. The Pet Clothes Raincoat Double Dog Raincoat features adjustable straps on both the chest and belly, allowing you to achieve a snug and comfortable fit for your dog. Whether you have a petite pooch or a larger breed, this raincoat can be customized to suit their unique body shape.
A well-fitted raincoat not only ensures your dog's comfort but also enhances its effectiveness. With no loose ends or gaps, rain is less likely to find its way inside, keeping your furry friend dry even in heavy downpours.
Durable and High-Quality Materials: Built to Last
Let's face it – dogs can be a bit rough on their belongings. Whether it's playfully tussling with a fellow canine or exploring the great outdoors, dogs can put their gear through the wringer. That's why the Pet Clothes Raincoat Double Dog Raincoat is crafted from durable and high-quality materials.
The raincoat is made from waterproof and tear-resistant fabric, designed to withstand the rigors of outdoor adventures. It's built to last, ensuring that your dog can enjoy countless rainy days without worrying about wear and tear. Plus, the vibrant colors and stylish design add a touch of flair to your dog's rainy-day ensemble.
Reflective Safety Strips: A Nifty Nighttime Feature
Safety is paramount, even on rainy days when visibility can be low. This raincoat takes safety seriously with its reflective strips. These strips, strategically placed on the raincoat, enhance your dog's visibility during nighttime walks or gloomy weather conditions.
Now you can venture out for a stroll in the rain without worrying about passing cars or fellow pedestrians. The reflective strips ensure that your dog remains visible, reducing the risk of accidents and providing peace of mind.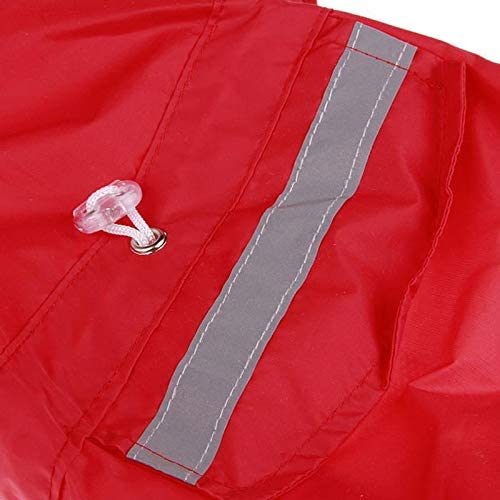 The Versatility of a Dog Raincoat
The Pet Clothes Raincoat Double Dog Raincoat is not just for rain. While it excels at keeping your dog dry during downpours, it's also a versatile piece of attire for various weather conditions. Here's how:
Of course, the primary purpose of the raincoat is to keep your dog dry during rain showers. Whether it's a light drizzle or a torrential downpour, your dog can enjoy outdoor activities without getting soaked.
Rain often comes with wind, which can make your dog feel even colder. The wind-resistant design of this raincoat ensures that chilly gusts don't penetrate, providing a cozy shelter for your furry friend.
During colder seasons, this raincoat can be layered over your dog's regular clothing for an extra layer of warmth and protection against the elements.
If your dog loves to explore muddy trails or splash in puddles, this raincoat is a game-changer. It keeps the muck off their fur, making post-adventure clean-up a breeze.
Early morning walks often mean encountering dew-covered grass. With the Pet Clothes Raincoat, your dog can stay dry and comfortable no matter how dewy the grass is.
The Convenience Factor: Packing for Trips
If you're planning a getaway with your four-legged friend, the Pet Clothes Raincoat Double Dog Raincoat is a travel essential. It folds compactly and fits easily into your luggage or travel bag. Whether you're heading to the mountains, the beach, or a cozy cabin in the woods, unpredictable weather won't catch you off guard. Your dog can enjoy the trip without any weather-related interruptions.
Keeping Indoor Spaces Dry: No More Wet Paw Prints
As much as we love our dogs, wet paw prints all over the house can be a hassle to clean. The Pet Clothes Raincoat Double Dog Raincoat acts as a protective shield. When your dog wears it during outdoor excursions, it prevents them from bringing the rain indoors. No more frantic mopping or wiping down muddy floors and furniture. With this raincoat, you can maintain a cleaner and more organized living space.
Easy Care and Maintenance: More Playtime, Less Cleanup
Pet parents know that frequent washing and maintenance of dog accessories can be time-consuming. This raincoat, however, is designed for convenience. It's machine-washable, allowing for quick and easy cleanup after muddy adventures. Just toss it in the washing machine, and it's ready for the next rainy day escapade. This easy care and maintenance mean more playtime and less time spent on chores.
Unisex Design: Suitable for All Dog Breeds
The Pet Clothes Raincoat Double Dog Raincoat is designed to be unisex, which means it's suitable for all dog breeds, regardless of their size or gender. Whether you have a dainty Dachshund or a robust Rottweiler, this raincoat can accommodate your furry friend. Its adjustable straps and multiple size options ensure a comfortable and secure fit for dogs of various shapes and builds.
Enhancing Bonding Moments: Quality Time in Any Weather
Rainy days often lead to cozy indoor activities, but with the right raincoat, you can still enjoy quality time outdoors with your dog. Whether it's a leisurely walk, an invigorating run, or a game of fetch, this raincoat encourages bonding moments even in less-than-ideal weather. It allows you to maintain your dog's exercise routine and keep them happy and healthy year-round.
The Final Verdict: A Rainy-Day Essential for Your Dog
In summary, the Pet Clothes Raincoat Double Dog Raincoat is a game-changer in the world of pet attire. Its innovative double-headed design, ease of dressing, adjustable fit, durable materials, safety features, and versatility make it a must-have for dog owners who want the best for their furry friends.
So, the next time the rain clouds gather, don't hesitate to reach for the unique Pet Clothes Raincoat Double Dog Raincoat. It's not just rainwear; it's an investment in your dog's comfort, happiness, and safety. With the Pet Clothes Raincoat Double Dog Raincoat, every rainy day becomes an opportunity for joyous outdoor adventures with your beloved canine companion. Say goodbye to soggy fur and hello to a brighter, rain-filled future with your furry friend by your side, all thanks to this innovative raincoat.
Related Products